ESG Policy-Making in 2022: an essential breakdown of climate-related requirements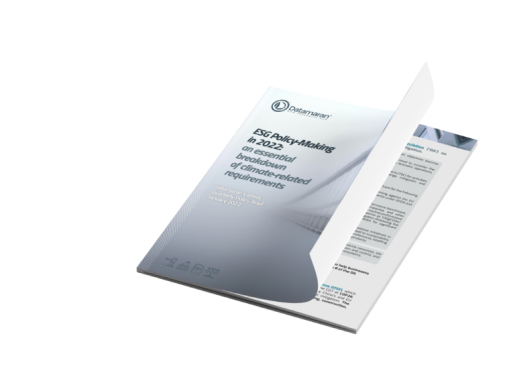 Companies need to prepare for strict mandatory climate disclosure requirements. That's why, for the first time, Datamaran is making the latest version of its client-exclusive, quarterly Policy Brief accessible to the wider public.
Download this free Policy Brief to understand what's changing, when, and how you can respond.
An essential resource for corporate leaders looking for guidance in becoming compliant and staying one step ahead
The tide has turned when it comes to ESG policy making. With COP26, came an era of promises (Pledges), climate financing worries, and the need for more extensive strategies.
Jurisdictions are racing to introduce strict mandatory requirements, as we saw with the enforcement of the EU Taxonomy Climate Delegated Act on 1 January 2022. Frameworks, such as the IFRS Climate-Related Disclosure Prototype and the EFRAG Climate Standard Prototype, are also converging - a signal of more to come.
This Policy Brief provides essential insights for businesses looking to be compliant and stay one step ahead. It features expert commentary from DLA Piper, a global law firm and Datamaran partner, and breaks down the significant global shifts in requirements into four categories:
Mandatory Global Developments
Voluntary Global Developments
New Climate Standards and Prototypes
Discussion Papers, Roadmaps and Green Guides.
Get your copy of the report
Fill the form below to download your copy.
By submitting this form you agree to receive the latest news and updates from Datamaran. You can revoke your consent at any time by using the Unsubscribe link, found at the bottom of every email.
Check our privacy policy and our terms of use
JEAN-XAVIER HECKER & HUGO DUBOURG
Co-heads of J.P. Morgan's EMEA ESG & Sustainability Equity research
"Clarification of the notion of "Double" and "Dynamic" materiality is a major step forward for both ESG reporting and ESG investing.
An ESG integration process driven by double materiality allows to differentiate between ESG issues which are currently "externalities" vs. the ones which are currently affecting the financial results of a company. As such, every user of ESG data can design an investment process which best suits their own objectives."
What will I find in this Policy Brief?
This Policy Brief is an essential overview of climate-related disclosure requirements for corporate leaders that need assistance in becoming compliant and staying one step ahead.
It includes:
Key developments by jurisdiction
Timeline of developments - what's coming up
Links to relevant source information
Download this free Policy Brief to understand what's changing, when, and how you can respond. Want more insights like these? Get in touch to find out how you can receive this Policy Brief on a quarterly basis.
About Datamaran
Datamaran is the only software analytics platform in the world that identifies and monitors external risks, including ESG. Trusted by blue-chip companies and top tier partners, and recognized as best practice by European regulators, it brings a data-driven business process for external risk and materiality analysis. In house - at any time.
Datamaran's patented technology offers real-time analytics on strategic, regulatory and reputational risks, specific to your business and value chain.