Double Materiality: How to get started in 5 simple steps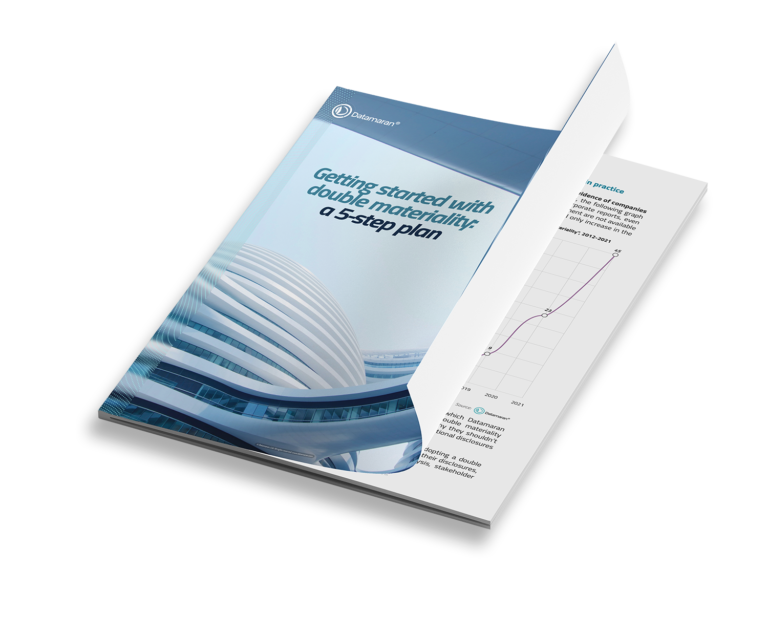 The new Corporate Sustainability Reporting Directive (CSRD) adopted by the EU Commission will mandate over 50,000 companies in Europe to conduct a double materiality assessment.
Download this free ebook to learn what double materiality is, and how to get started integrating that approach in your materiality assessment process.
Whether you have already started to adopt a double materiality approach for your annual reporting, or this is the first time you hear about it, this ebook is for you.
Adopted by the EU Commission in April 2021, the new Corporate Sustainability Reporting Directive proposal (CSRD) is setting common European reporting rules, requiring more than 50,000 companies to report sustainability information according to mandatory EU sustainability reporting standards and to conduct a double materiality assessment.
Despite the name, a double materiality assessment does not require conducting two separate assessments or drawing two separate matrices. It requires gathering evidence, assessing, and explaining why issues are material from the "impact" (stakeholders) perspective and/or from the "financial" perspective. But where to start?
Download this free ebook to learn the key elements of the new EU Sustainability Reporting Standards, and how to conduct a double materiality assessment in 5 simple steps.
Get your copy of the report
Fill the form below to download your copy.
By submitting this form you agree to receive the latest news and updates from Datamaran. You can revoke your consent at any time by using the Unsubscribe link, found at the bottom of every email.
Check our privacy policy and our terms of use
JEAN-XAVIER HECKER & HUGO DUBOURG
Co-heads of J.P. Morgan's EMEA ESG & Sustainability Equity research
"Clarification of the notion of "Double" and "Dynamic" materiality is a major step forward for both ESG reporting and ESG investing.
An ESG integration process driven by double materiality allows to differentiate between ESG issues which are currently "externalities" vs. the ones which are currently affecting the financial results of a company. As such, every user of ESG data can design an investment process which best suits their own objectives."
What will I find in this ebook?
In this guidance, you will find everything you need to:
Understand the key aspects of these policy developments, and how requirements are changing;
Adopt a double materiality approach in your strategic planning, risk management, board oversight, and annual reporting processes;
Set up a structured, systematic, data-driven and regular double materiality assessment process; and
Establish the needed governance structures to ensure oversight of the materiality assessment process.
About Datamaran
Datamaran is the only software analytics platform in the world that identifies and monitors external risks, including ESG. Trusted by blue-chip companies and top tier partners, and recognized as best practice by European regulators, it brings a data-driven business process for external risk and materiality analysis. In house - at any time.
Datamaran's patented technology offers real-time analytics on strategic, regulatory and reputational risks, specific to your business and value chain.